Alexandr N. Frenovsky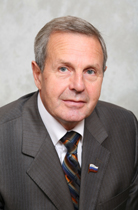 Elected by Kolpashevo single member constituency No.13
Political Party:
Edinaya Rossiya
(United Russia)
Faction of the State Duma of Tomsk Oblast:
Edinaya Rossiya
(United Russia)
Committee of the State Duma of Tomsk Oblast:
Economic Policy Committee
Place of Employment:
Company
Stimul Т
, Chief Executive
Date of Birth:
February 25, 1948
Brief Biography
Born in the village Alexandrovka of Bavlinsky District, Tatar ASSR. In 1971 graduated from Ufimsky Petroleum Institute, Mining and Petroleum Department. After graduation worked in the West Petroleum Exploration Expedition of Tomsk Territorial Geologic Department (village Novy Vasyugan, Tomsk Oblast). Experienced professional growth from a drill operator assistant, then drilling engineer, superintendent of the drilling staff, to a chief engineer. In 1980-1985 headed the Expedition. In 1985-1991 - a chief engineer of the State Geological Enterprise
Tomskneftegazgeologiya
. In 1991-2003 - Director General of
Tomskneftegazgeologiya
, since 2003 - Deputy Director General. Since 2005 - Chief Executive of the Company
Stimul T
.
Additional information
Was awarded the Medal
For Management of the Subsurface and Development of Oil and Gas Complex of West Siberia
, the Sign of Honor
For excellent performance in Subsurface Management
.
Deputy of the State Duma of Tomsk Oblast of the III (2001-2007) convocation