Maksim B. Kormashov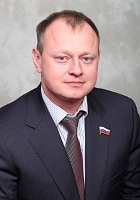 Elected by Vostochny single member constituency No. 10
Political party:
Edinaya Rossiya
(United Russia)
Faction of the State Duma of Tomsk Oblast:
Edinaya Rossiya
(United Russia)
Committee of the State Duma of Tomsk oblast:
Economic Policy Committee
Place of Employment:
OAO Spetsteplokhimmontazh
Date of Birth:
February 17, 1971.
Brief Biography
Born in Chelyabinsk into a family of civil construction engineers. Moved to Seversk in 1980.
In 1993 graduated from the Civil and Industrial Construction Department of Moscow Civil Engineering Institute with a degree in Nuclear Plants Engineering. In 1996 obtained the second university degree in economics in Krasnoyarsk State University. In 2005 successfully completed a professional retraining course under the Presidential Management Training Program involving internship in Germany at a leading construction company.
1993 - foreman, 1994 - supervisor, 2001 - Finance Officer, 2007 - Executive Officer, OAO Spetsteplokhimmontazh.
In 2007 was elected deputy of the Duma of the Seversk Administrative and Territorial Entity, was a member of the Budget and Finance Committee at the same time being the Head of the Standing Construction Committee.
Married. Has three children (two daughters and a son).
Deputy of the State Duma of Tomsk oblast of the IV(2007 – 2011) convocation.