Ombudsman for Children of Tomsk Oblast
Lyudmila Eftimovich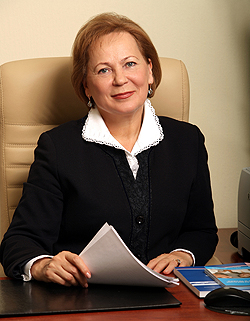 Born on September 4, 1950.
In 1974, graduated from the Tomsk State University as a historian. In 1995, completed her studies at the Russian Academy of Public Administration under the President of the Russian Federation as a psychologist. Candidate of pedagogical sciences.
Professional experience in social security – 20 years. In 1991-1995, Chairman of the Social Policy and Family and Childhood Committee of the Tomsk Oblast Administration. In 1995-2007, Head of the Social Security Department of Tomsk Oblast. Since March 2007, Head of the Family and Children Department of Tomsk Oblast.
In December 2010, was appointed Ombudsman for Children of Tomsk Oblast (by Decree of the Tomsk Oblast State Duma No. 3945 of December 17, 2010).
Lyudmila Eftimovich has done much in the development of the social protection system of Tomsk Oblast. While she was managing the social security in the region, the number of social institutions in the Oblast grew from 6 to 62. She has implemented an effective vertical management structure in the social security sector based on separation and centralization of social powers. The neighborhood principle of social work was implemented throughout the Oblast. That pooled the resources of the social security system of the Oblast and reduced fourfold (from 286 to 68) the number of public officials in the social sector. At the same time, the number of practical social workers grew and the accessibility of social support and services improved.
Lyudmila Eftimovich spends a lot of time and effort meeting and talking with ordinary people. She has implemented a number of "out-of-office work" initiatives such as "Days of the Department" in the districts of the Oblast, regular field sessions for the population, and meetings with community activists. She works with the universities of Tomsk and has chaired the Social Work State Examination Board of the Tomsk State University over a number of years.
She is actively involved in outreach activities. She holds meetings with NGO leaders and chairs the management board of the regional office of the nonprofit NGO the Women's Union of Russia.
She has the Order of Merit for the Fatherland, second class; Tomsk Oblast Certificate of Honor (under Tomsk Oblast Law No. 179-FZ of September 2, 2004); Social Security Expert award pin.