Vasily Muzaliov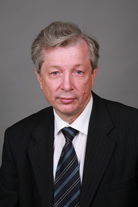 Elected on the regional party list of the Tomsk Regional Office of the United Russia Party
Political party:
United Russia
Faction of the State Duma of Tomsk Oblast:
Edinaya Rossiya
Date and place of birth:
November 3, 1951; Petrovsky, Novosibirsk Oblast.
Currently lives in Tomsk.
Has a university degree. In 1974, graduated from the Novosibirsk Institute of Rail Transport Engineers with a degree in civil bridges and tunnels.
Since 1976, has been working in the bridge building sector of Siberia.
Since 1992, has been managing Bridge Building Division No. 101 of the Tomsk Branch of OAO Sibmost.
He has managed construction and commissioning of 28 bridges and junctions and more than 2000 meters of elevated roads. He has made a significant contribution to the development of the transport network of Tomsk and Tomsk Oblast and the development of the Russian bridge building sector.
Awards:
Honorary titles Distinguished Construction Worker of the Russian Federation (1997) and Honorary Road Construction Worker of Russia (1999) and a number of State awards. Member of the Tomsk Union of Construction Workers.