Alexandr K. Shpeter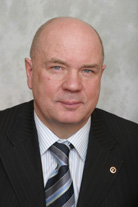 Elected by Akademichesky single member constituency No.3
Faction of the State Duma of Tomsk Oblast:
Edinaya Rossiya
(United Russia)
Committee of the State Duma of Tomsk Oblast:
Economic Policy Committee
Place of Employment:
Company
Tomskaya domostroitelnaya kompaniya (Tomsk House-Building Company)
, Director General
Academic degree:
Candidate of economic sciences
Date of Birth:
May 2, 1952
Brief Biography
Born in the village Tymsk of Kargasok district of Tomsk Oblast. In 1970 was drafted and served as a crew chief of strategic racket forces. In 1977 after graduation of Tomsk Civil Engineering Institute, was employed by Tomsk House-Building Combine. The same year he was transferred to the town Strezhevoi to the site of large-panel construction. Later it was reorganized to the mobile mechanical division PMK-90. In 1990 was appointed as the head of the house-building combine in Tomsk. In 1996 he started the formation of the holding
Tomskaya domostroitelnaya kompaniya
.
Additional information
He is the honored builder of the Russian Federation, was awarded with the medal
"For management of the subsurface and development of oil and gas complex of West Siberia"
and a gold honored sign
Pride of Siberia
.
Deputy of the State Duma of Tomsk oblast of the IV(2007 – 2011) convocation.