Aleksander Mihkelson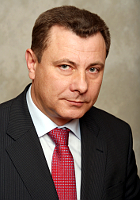 Elected in Ketsky single member constituency No. 20
Director of Oblast Road Maintenance Office, Tomsk Oblast State Unitary Enterprise
Date of birth:
March 13, 1965
Brief biography:
Born in Asino, Tomsk Oblast
1987 – graduated from the Road Department of the Tomsk Civil Engineering Institute
Started his professional career as a foreman and construction site supervisor at Tomlesstroy Construction Company. Since 1994 has worked at various road maintenance enterprises of Tomsk Oblast. Over 16 years worked his way up through positions such as a construction site supervisor at Asino Road Maintenance Office, director of Zyryansky Road Maintenance Office, and director of Asino Road Maintenance Office
Since 2010 – director of Oblast Road Maintenance Office, Tomsk Oblast State Unitary Enterprise, one of the biggest road maintenance enterprises in Tomsk Oblast employing more than 1,000 people
2005 – was elected deputy of the Zyryansky District Duma with many voters having voted for him.
Initiated various social campaigns in the district such as aid campaigns for schools and nurseries, pensioners and families with dependent children
Additional information:
Married, has two children