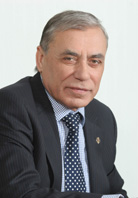 Elected by the Central single member constituency No.4
Faction of the State Duma of Tomsk Oblast:
Edinaya Rossiya
(United Russia)
Academic Degree:
Academician of the Russian Academy of Natural Sciences, Full Member of the International Engineering Academy, Professor.
Date of Birth:
July 12, 1938.
Brief Biography
Born in Perm. In 1960 graduated from Tomsk Civil Engineering Institute, Industrial and Civil Construction Department. Worked as a repairman, work superintendent on building sites of Tomsk Oblast. In 1964 headed the plant of concrete constructions. Since 1970 - deputy head of
GlavTomskstroy
. In 1971-1982 - chief engineer, since 1982 - manager of a big construction company
GlavTomskstroy
. In 1990-1991 - Deputy Chairman of Tomsk Regional Executive Committee. In 1991-1994 - Director General of Tomsk Industrial and Building Association. More than 30 years combined work in the enterprises with teaching activity in Tomsk Civil Engineering University.
Additional information
Author of more than 40 scientific publications according on management and technology of building construction in Siberia. Author of the books
A Word about Power
,
A Word about Law, A Word about Life
,
A Word to Deputies (100 Speeches by the Chairman)
,
Notes of a Civil Engineer
,
Diary of a Speaker
.
Deputy of the State Duma of Tomsk Oblast of the I (1994-1997), II (1997-2001), III (2001-2007) and IV (2007-2011) convocations.