Ivan G. Klyain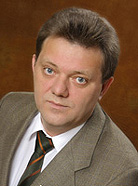 Elected by Kirovsky single member constituency No.2
Committee of the State Duma of Tomsk Oblast:
Budgetary and Financial Committee
Place of Employment:
OJSC
Tomsk Beer
, Director General
Academic Degree:
Candidate of economic sciences. Corresponding Member of the Quality Academy. Honored Academician of the International Quality and Marketing Academy and the International Management Academy.
Date of Birth:
June 8, 1959.
Brief Biography
Born in Semipalatinsk Oblast of Kazakh SSR. In 1984 graduated from the Automation and Computer Engineering Department of Tomsk Polytechnic Institute. In 2000 graduated from Tomsk State University in State and Municipal Management. In 1984-1985 worked at an instrument engineering plant in Frunze (now Bishkek, capital of Kyrgyzstan). Since 1985 worked as a master mechanic in Tomsk Brewery, since 1987 – chief engineer of the plant, since 1991 – Director of the Brewery.
Additional information
Was awarded the Order
For Excellent Performance in Developing Brewing Industry
; the Medal
For Excellent Performance in Strengthening Competitiveness of Russia
; the Order of Peter the Great of II degree
For Outstanding Contribution and Achievements Promoting Prosperity of Russia
.
Deputy of the State Duma of Tomsk Oblast of the II (1997-2001), III (2001-2007) and IV (2007-2011) convocations.