EGOR LIGACHEV TURNS 95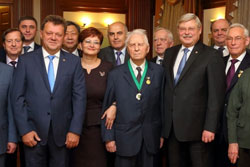 Speaker of the Tomsk Oblast Duma Oksana Kozlovskaya and the delegation of Tomsk people in Moscow congratulated Egor Ligachev on his 95th birthday.
Oksana Kozlovskaya gave to the birthday boy a memorable gift and a congratulatory address which was passed unanimously at the 47th session of the Tomsk Oblast Duma. The address says:
"You have always worked hard to create: whether it was a technological modernization of the region's economy or the development of the region's cultural life. Your statement, "It's such a joy to keep on working!" has been a life motto for all those whose hearts are with their country and its every region. Every day of your life you demonstrated what hard work is. You paid attention to the smallest detail and thanks to your efforts the word 'Tomsk' has always been associated with the word 'best'. Such was the region when you were there and it is still the best – one of the best regions in Siberia and in Russia!
On behalf of all deputies of Tomsk Oblast Oksana Kozlovskaya wished the patriarch of the Russian politics good health, every success and many happy returns of the day.