CONVERSATION ABOUT MOST IMPORTANT THINGS FOR EVERYONE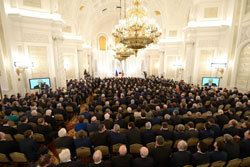 Today, in the St. George's Hall of the Moscow Kremlin in front of more than 1000 people Russian President Vladimir Putin delivered his 12th Annual Address to the Federal Assembly. The audience observed a minute's silence in honor of the Russians who fell victims to terrorist attacks, and Russian soldiers who lost their lives in performing their military duty. Speaker of the Legislative Duma of Tomsk Oblast Oksana Kozlovskaya shared her impressions of the President's speech.
"The tone of the President's speech echoed the events that are taking place in the world and troubling every individual in the world. Among the audience were fighter pilots, participants of the anti-terrorist operation in Syria, the widow of the pilot in command of the plane that was taken down over Sinai and the widow of the sea soldier who tried to save the flight navigator. This made the President's words sound differently when he talked about the tragic events of the last years. Everyone could feel the pain for the victims of the global terrorism. Right now our boys are serving their nation protecting Russia's remote borders.
Almost all issues raised by the President in his speech immediately concern Tomsk Oblast. Priority topics were development of the economy, building trust between government and business, improving business climate in the country. I believe, it's the right time to make liberal steps towards entrepreneurs because business is the real driver of the economy. The President emphasized that in a situation when only 15% of criminal cases against business end up with a sentence, in the other 85% of the cases entrepreneurs either lose their business or it shrinks.
For high-risk sectors, such as construction in our region, special governmental programs will be a tremendous support.
The President talked a lot about the development of the social sphere – healthcare, education, targeted benefits. Very important statements were made about extending the maternity capital for two years; allocating 50 billion rubles for renovation and construction of new schools, support for gifted children; and fostering scientific and technical creativity at schools.
Additional federal funds will come to the regions for high-tech surgeries. The President set clear targets for government leaders at all levels to make sure that emergency medical services have state-of-the-art equipment and more efficient approaches are taken to medical help for remote communities.
And the last and very important thing in the current economical and political situation is that the President made a commitment that Russia will become self-sufficient in terms of agricultural production by 2020.